Camp Counselors at Kingsley Pines help provide the foundation of a fantastic camping experience. If you love summer camp and helping kids have an absolutely incredible experience at camp, then this position is for you!
What is the Role of a Summer Camp Counselor at Kingsley Pines?
Camp Counselors at Kingsley Pines are responsible for the health and safety of all campers as well as helping with camp activities. They are responsible for leading and guiding campers as well as living with a group of 3 – 10 children campers.
This is a seasonal 24-hour, 6-days-a-week position as the campers will generally be in your care. The date range for this job is June 14 to either August 10 or August 253.
Requirements for a Summer Camp Counselor
There are some specific requirements we have for our Camp Counselors. These include:
Ability to instruct one or more of our camp activities:

Baseball, Basketball, Fencing, Football, Golf, Soccer, Tennis, Ultimate Frisbee
Ceramics, Dance, Fiber Arts, Jewelry, Photography, Stained Glass, Theater (directing), Theater (Pianist) Theater (Technical), Ukulele, Visual Arts, Woodworking, Yoga
Archery, Low Ropes Course, Nature, Outdoor Living Skills, Rock Climbing, High Ropes Course
Kayaking, Paddleboarding, Sailing, Swimming, Wakeboarding, Waterskiing, Windsurfing

Positive attitude
Be at least 18 years of age
Graduated High School by January 1, 2024
Maturity
Creativity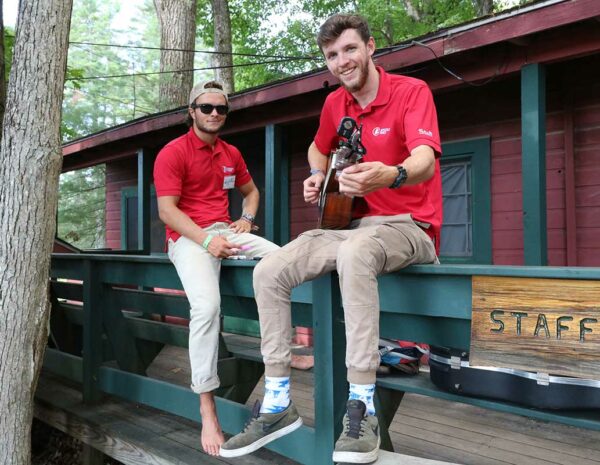 Benefits and Pay for a Summer Camp Counselor at Kingsley Pines
As a Camp Counselor, you get to enjoy several benefits in addition to the rewarding experience of providing an amazing camping environment for our campers.
Benefits for Camp Counselors at Kingsley Pines include:
Free room and board
Laundry
Internet
Meals
Ability to make a difference
Beautiful waterfront location
Travel and certification allowances
Supportive staff environment
Compensation for the Camp Counselors is $3,000 + for a season.
How Do I Apply to Be a Camp Counselor?
If you are interested in becoming a Camp Counselor here at Kingsley Pines, you can easily apply online via our Camp Counselor Application. We are currently accepting applications for Summer 2023!
If you have any questions at all, please contact us and we would be happy to help!